Today the heat index is 104 degrees (F)! That is hot for Ohio, you guys. Honestly, it was so hot I didn't even leave my house. So I spent the day in a tank top and gaucho pants while cleaning out my office. I had planned on posting a daily outfit this evening, but I doubt you want to see me in this getup. So here is an outfit I wore to run some errands (and do some browsing) at Target about a week ago:
The marvelous backdrop provided by Target's fitting rooms.
I think I would have liked this better with a belt, because my waist gets lost in this the way it is. Eh, live and learn, right?
I am super excited because I get to order a new cell phone tomorrow! I have had my crappy little slider phone for two years now, and I am ready for something new. Here's my old phone:
And here is the one I'm ordering tomorrow: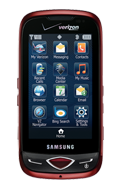 I am so excited!